As a staff, my pastor is having us walk through The Externally Focused Church
by Rick Rusaw & Eric Swanson.
The book centralizes around the role of the church: Do we prioritize training and equipping the flock or do we prioritize reaching out to the lost and hurting?
Simplified, it examines the church and its battle to balance good works and faith.
Reading, I came across this: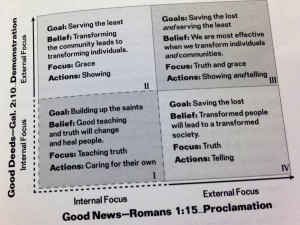 Looking at this chart, I began to question where I would place our youth ministry at LifePoint.
In what quadrant would the youth ministry you lead fall?
Are you reaching out to students in need with the same intentionality that you are raising up your flock?
As we prepare our students for life after youth ministry, we must ensure that they hunger for the transformation of others. We must view our students as tools of transformation and change, empowered by the Holy Spirit. Raise them up, and send them out! If we are too internally focused we risk raising up a generation of pharisees who comprehend truth, but lack understanding on how to apply it.