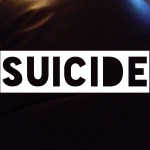 What are we doing about Suicide?
Suicide is one of the biggest issues in the world today and most importantly in Student Ministry! We must do everything we possibly can do to be prepared when a student is struggling with suicide and suicidal thoughts. To be honest, two months ago, we were completely unprepared.
We have already had two students attempt suicide in the last 4 months and have ended up in the hospital. We have also had several mention they have thought about it.
We must know what to do. We need the right resources. Lets take action!
We can't mention enough in our sermons that Jesus cares about them and their needs and would never want them to take their life! He came that they may have life and life to the full!
We can't allow students to make a permanent decision with a temporary problem! 
Things we must do!
-Give them a wallet size resource card of what they can do if they are struggling with suicide.  Hand them out to every student. Example below.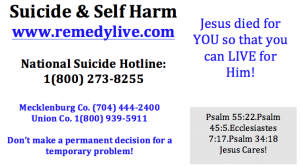 -Have a night dealing with Suicide. Have a student share their testimony and then have leaders for them to go to.
-Encourage students to talk to their parents about their life and what they are going through.
-Have a counselor they can go to if its something serious they are going through.
-Take your students seriously when they talk about suicide.
One of the best movies dealing with this topic: "To Save a Life." If you haven't seen this, it's a must!
[author] [author_image timthumb='on']http://www.theyouthministryblog.com/wp-content/uploads/2013/09/Michael-Hux.png[/author_image] [author_info]
Michael Hux is the Student Pastor of Team Church in Matthews, NC.
Connect with Michael on Twitter or Instagram: @_Hux
[/author_info] [/author]