Developmentally, teenagers have a hard time seeing the "big picture." Rather than seeing the culmination of various circumstances that led to a bad day, they think their world is ending and the sky is falling.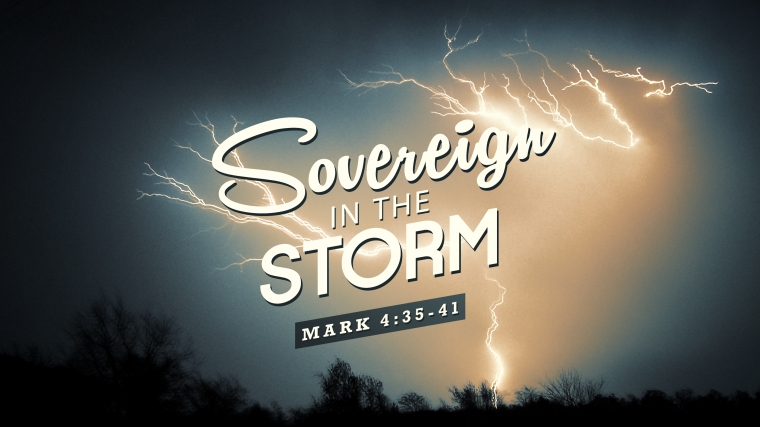 As Youth Pastors, we must speak truth into these circumstances. We must preach a Gospel that does not promise freedom from these hard times, but rather a message of hope in Christ that supersedes any bad day or circumstance.
My students are going through Mark 4:35-41 this week. This is the story of Jesus calming the storm after being woken from sleeping on a cushion. The verse in this passage that gets the most attention is verse 41 where the disciples proclaim, "Who then is this, that even the wind and the sea obey him?"
Much is then made, and rightfully so, about the sovereignty of Jesus over the created order. While this does make Jesus look awesome and an awful lot like Captain Planet, we can't miss the fact that the disciples were also acting an awful lot like the teenagers in our ministries!
"Teacher, do you not care that we are perishing?" Sure, these were experienced fishermen who had probably faced a storm or two, but Jesus was sleeping, how bad could it have been?!
This is exactly what I do with students. I hear about the different circumstances and situations they are facing and think, "how bad could that really be?" To state the obvious…I'm low on compassion.
But on the other side of the coin, Jesus is with them! Rather than telling students "it's going to be okay," or "you'll get through this," we need to remind them, "Jesus is with you!" Yes, it might feel like He's asleep right now, but He's with you. Yes it feels like the world is ending but you have a relationship with the ONE who will cease time and usher in eternity!
Is this easy to teach or easy to understand? Absolutely not! But we have Paul to show us the way:
"Indeed, I count everything as loss because of the surpassing worth of knowing Christ Jesus my Lord. For his sake I have suffered the loss of all things and count them as rubbish, in order that I may gain Christ and be found in him…" -Philippians 3:8-9

"Not that I am speaking of being in need, for I have learned in whatever situation I am to be content. I know how to be brought low, and I know how to abound. In any and every circumstance, I have learned the secret of facing plenty and hunger, abundance and need. I can do all things through Christ who strengthens me." -Philippians 4:11-13
May we preach a Jesus who is with us through "all things" including the storm. Jesus never said it would be easy. He never offered a golden ticket that would free us from suffering, but He did promise to be with us:
"And I will ask the Father, and he will give you another Helper, to be with you forever, even the Spirit of truth, who the world cannot receive, because it neither sees him nor knows him. You know him, for he dwells with you and will be in you." -John 4:16-17