On Tuesday, our staff celebrated Christmas. We did so by having lunch and then taking a tour of AT&T Stadium, aka. Jerry World or Cowboy Stadium. It was a blast touring this BILLION dollar building, but even more fun living out my dreams of greatness on the field!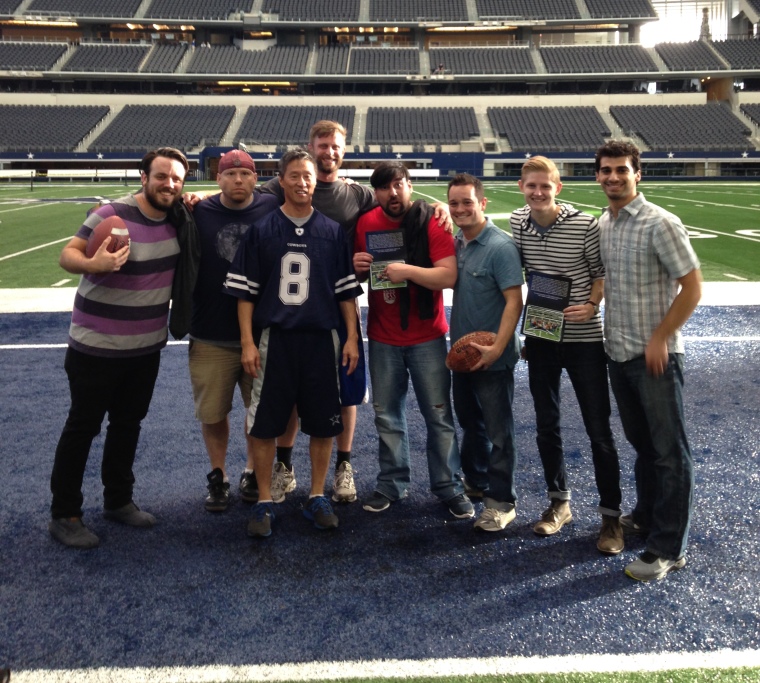 After the tour, 8 of us spent around 45 minutes playing four-on-four and running fade routes to the endzone. It was so surreal. We also discovered how difficult it is to hit a 20-yard field goal!
The whole time we were on the field, I kept thinking, "what is it like to have 80,000 people watching, cheering, jeering, and criticizing your every move? What kind of pressure do these players face in their attempts to get an oblong ball across a line?"
After pretending to throw and catch touchdowns, I drove 30 minutes back to my office in Plano for a time of discipleship with two students.
We spent 45 minutes talking about our identity in Christ, and I listened to them talk about how they are slowly but surely finding themselves in Him rather than in the things of the world. It was a rich 45 minutes.
As I was packing my bag to head home, I couldn't help but parallel my 45 minutes on the field with my 45 minutes with students. My mind wondered, "what is is like to have friends, parents, siblings, teachers, pastors, and random people at school watch, cheer, jeer, and criticize your every move? What kind of pressure do students face in their attempts get through jr. high and high school?"
Getting through jr. high and high school and keeping Christ preeminent…now that's greatness!