In the spirit of Christmas, I thought I would share some quotes from men far more theologically advanced than myself. Each of these quotes reflect some element of Christmas, Advent, or the Incarnation.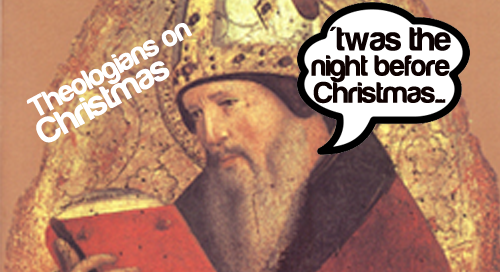 Reading these will help ground us in the meaning and purpose of Christmas. Enjoy!
Barth On the Incarnation:
Of the incarnation of the Word of God we may truly say both that in the conception of Jesus by the Holy Spirit and His birth of the Virgin Mary it was a completed and perfect fact, yet also that it was continually worked out in His whole existence and is not therefore exhausted in any sense in the special event of Christmas with which it began. The truth conveyed by the first conception is that the formation and ordering of the flesh in the flesh is represented in the New Testament as a procedure which unfolded itself as it did with a necessity originally imposed upon Jesus. "I have meat to eat that ye know not of .… My meat is to do the will of him that sent me, and to finish his work" (Jn. 4:32f.). "Wist ye not that I must be about my Father's business?" (Lk. 2:49). He must work the works of Him that sent Him, while it is day (Jn. 9:4). He must be lifted up from the earth (Jn. 3:14; 12:34). He must go to Jerusalem, to suffer many things, and be killed, and rise again, as the Synoptic predictions of the passion repeatedly say. This is the necessity of His action given at the beginning in the person of Jesus—the incarnation as an already completed fact.

Karl Barth, Church Dogmatics, III/2, 337
---
Athanasius on the Incarnation:
"The body of the Word, then, being a real human body, in spite of its having been uniquely formed from a virgin, was of itself mortal and, like other bodies, liable to death. But the indwelling of the Word loosed it from this natural liability, so that corruption could not touch it. Thus is happened that two opposite marvels took place at once: the death of all was consummated in the Lord's body; yet, because the Word was in it, death and corruption were in the same act utterly abolished."

Athanasius of Alexandria, The Incarnation of the Word of God
---
Luther On Christmas:
The right and gracious faith which God demands is, that you firmly believe that Christ is born for you, and that this birth took place for your welfare. The Gospel teaches that Christ was born, and that he died and suffered everything in our behalf, as is here declared by the angel: "Behold, I bring you good tidings of great joy which shall be to all the people; for there is born to you this day a Saviour, who is Christ the Lord." In these words you clearly see that he is born for us.

Martin Luther, The Sermons of Martin Luther, volume I:134-160
---
Augustine on Christmas:
Awake, mankind! For your sake God has become man. Awake, you who sleep, rise up from the dead, and Christ will enlighten you.  I tell you again: for your sake, God became man.
You would have suffered eternal death, had he not been born in time. Never would you have been freed from sinful flesh, had he not taken on himself the likeness of sinful flesh. You would have suffered everlasting unhappiness, had it not been for this mercy. You would never have returned to life, had he not shared your death. You would have been lost if he had not hastened 'to your aid. You would have perished, had he not come.
Let us then joyfully celebrate the coming of our salvation and redemption. Let us celebrate the festive day on which he who is the great and eternal day came from the great and endless day of eternity into our own short day of time.

Saint Augustine of Hippo, (Sermo 185: PL 38, 997-999)
---
Bonhoeffer On Advent:
"…And then, just when everything is bearing down on us to such an extent that we can scarcely withstand it, the Christmas message comes to tell us that all our ideas are wrong, and that what we take to be evil and dark is really good and light because it comes from God. Our eyes are at fault, that is all. God is in the manger, wealth in poverty, light in darkness, succor in abandonment. No evil can befall us; whatever men may do to us, they cannot but serve the God who is secretly revealed as love and rules the world and our lives."

Dietrich Bonhoeffer, God Is in the Manger: Reflections on Advent and Christmas
Click Share or Tweet below to pass on the Christmas Cheer!