The notification came through on my phone and I saw who the Tweet was from. My heart did a little flip of excitement as I read the words by my dear friend, "Spending the weekend painting+sharing #scripturedoodle at the @umyoungpeople youth rally. Wish you were here @MeganEFaulk"
I wished I was there, too. So, I replied: "@Worship_Artist @umyoungpeople Talk about a #FlashbackFriday !!! Some of our best moments! Proud of you! Love you always! Xo" 
My friend was sharing her love of worship through art at a Youth Rally for 4,000 teenagers and adult leaders that we helped produce when we were just teenagers and young adults. We were raised in ministry when someone saw our gifts as young people. They put April (@Worship_Artist) and I in the same places, a lot of the same time, and required us to make things happen for the Kingdom. We experienced the power of the Holy Spirit together at a young age, cried, laughed, shared, oh, and were on a fantastic team of laborers who put that youth rally together on the eastern shore of Maryland.
April and I both moved away from our hometowns to fulfill God's calling on our lives and are always excited to see each other whenever God allows our paths to cross. I went to Philadelphia for college and she went to South Carolina. She stayed south, found an amazing man to marry and have a family with, and an incredible church which supported both she and her husband's gifts in creative ministry.
I moved to New Jersey after college graduation and began walking out a calling that rocks my world in youth ministry daily. We've both made some hard decisions that pushed forward God's Kingdom here on the earth because we've chosen to trust Him instead of please people. I have a vivid memory of a mentor we shared saying "You girls are dangerous," when we were just seventeen years old. I didn't know what that meant then, and I'm kind of only really learning what that means now.
April paints on stages for thousands as she worships Jesus, her first Love. She shares the dream of #ScriptureDoodle by meditating on God's Word through, well, doodling, and teaches people to do the same! I blog a little bit, write for different youth ministry resources, speak at random conferences, and have a calling to a local church ministry that is real and crazy and often really crazy.
Here's the thing, though: On Friday night as we were tweeting, floods of memories came back to me! We were young, making mistakes, planning big events, praying with people to receive Jesus, and there were very impactful adults all around us pushing us to do these things. They saw gifts in us and LAUNCHED us into ministry. I became overwhelmingly thankful for our launch pad!
Let's be real, youth workers, we didn't get where we are by ourselves. We've let conviction compel us, passion push us and righteous anger energize us. Whether your launching pad into youth ministry was because of someone or something, or in spite of someone or something, we could never do this alone. We all came from somewhere.
I'm convicted today to be thankful for my launching pad. For the people who poured their lives into mine from the beginning, for the people who put me in settings to do ministry at a very young age, because they knew God had gifted me with heart for His Kingdom.
Where's your launching pad? Who is on it? Have you said THANK YOU lately?
Our calling is real, deep, emotional, exciting, fun, exhausting, challenging, and sometimes downright hard, nonetheless, we must be thankful to the people who launched us into that place.
Not only was I convicted about my lack of thankfulness to my launching pad, but also wondering who I was deeply investing in as caring adults invested in April and I. You might think that's a silly conviction for us as youth workers, since, well, all we do is invest our lives in students.
Are we merely investing to invest, or are we investing to launch a future generation into a ministry that severely impacts the Kingdom of God? Are we discipling or are we just teaching to teach? Who are the students in our ministry that God is calling forth to be lights in their darkened and depraved generation? Who is God calling into a life that will be messy, hilarious, and filled with glimpses of His power?
Let's commit to be intentional about our investments in students this year, friends. Let's ask the Lord for His guidance and pray for our students to receive deep callings into ministry to bring Hope to a world that desperately needs to encounter it.
Questions for Consideration:
Who launched you into your calling to Youth Ministry?
Who are you intentionally investing in to launch?
Write a Thank You note. You know to who.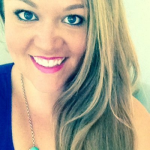 Megan Faulkner is a Delaware native, now claiming the shores of New Jersey as her home. She graduated in 2007 from Eastern University in Philadelphia with a B.A. in Youth Ministries and Communication Studies. She's been in full time youth ministry for eight years now, and has loved most minutes of it!
She can often be found on an airplane to and from Haiti (not kidding), on the beach, or swimming/biking/running. She recently completed her first Iron Girl Triathlon with the goals of not dying and not coming in last!
Megan loves social media and connecting with other youth workers, especially through writing. Her blog, Joy in the Journey, can be found at meganfaulkner.tumblr.com
Ways to Connect:
@MeganEFaulk (Twitter & Instagram)
facebook.com/megan.faulkner.31