What does it mean to suffer? Why does God allow me to suffer? Why would God call me to suffer? As we grow up into our relationship with God we seem to struggle with the answer to these questions.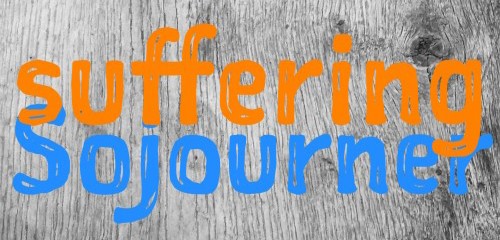 While the kingdom of this world invites us into a never-ending pursuit of more, the Kingdom of God invites us into a never-ending pursuit of Christ Himself. This venture then proves to be way more costly than we could have ever imagined. Living for the Kingdom of God, at least the way the Bible details it, is difficult and counter-cultural.
Our students struggle with this concept.
As Youth Pastors, we need to prepare our students to identify themselves as "suffering sojourners." You could also use the synonym "afflicted aliens." This definition is taken from a combination of 1 Peter 2:11 and 1 Peter 4:12-16.
"Beloved, I urge you as sojourners (aliens) and exiles (strangers) to abstain from the passions of the flesh,which wage war against your soul." -1 Peter 2:11
Are we preparing students to view themselves and live as aliens and strangers in a foreign land?
The relationship that we have with the creator of the universe calls us into radical abandon of what this world deems important, and into radical obedience to the counter-cultural will and way of the Father. Students must understand that outside the full-presence of God, we are not home. This is not where we were created to be. Sin has separated us and this fallen world draws us away from His presence. We are temporary residents in a foreign land who long to be home, and lovingly invite others to join our pilgrimage.
Beloved, do not be surprised at the fiery trial when it comes upon you to test you, as though something strange were happening to you. But rejoice insofar as you share Christ's sufferings, that you may also rejoice and be glad when his glory is revealed. If you are insulted for the name of Christ, you are blessed, because the Spirit of glory and of God rests upon you. – 1 Peter 4:12-14
I love this passage because it normalizes suffering for the cause of Christ. Peter essentially says, "Don't act like suffering is strange and unexpected! If the world came after Jesus, it'll come after you!" Peter then goes on to say that if we are insulted for our belief in Jesus, we are blessed with the presence of the Spirit!
I've noticed two types of students: Those who want to blend in, and those who want to stand out for their own glory. It is rare to see students standing up for something other than their own glory or edification, but this is precisely the type of disciple we are trying to cultivate. We want to see students who are unashamed of the gospel (enter Lecrae song), and the ramifications of following faithfully.
Instead of blending in, we want students who boldly (whatever that looks like for them) proclaim the gospel in word and deed. Instead of bringing glory to themselves, we want student who direct that glory where it is due. This process is equally difficult for our extroverts and introverts.
Living as a alien, standing out, not settling in, not going with the status quo, not giving into cultural norms, transforming culture, getting uncomfortable, getting made fun of, standing up for truth, and pointing others to The Truth is no small task.
But Jesus is worth it. 
How are you encouraging students to be suffering sojourners? Comment Below.