There is nothing more exciting or mentally exhausting than starting at a new church. I literally blinked and a month has passed by. Where leaving a ministry position feels like a long slow break-up, beginning a ministry position feels like drinking from a fire hydrant.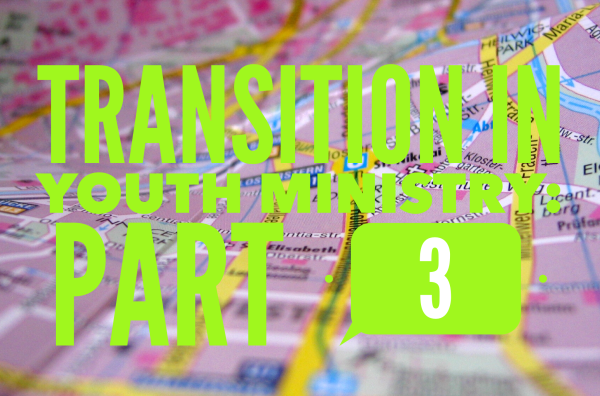 You can quickly become overwhelmed with memorizing student names, connecting with parents, learning staff personnel/culture, jumping into the teaching schedule, executing events already planned, planning for the future, and assessing ministry strengths & weaknesses. This list doesn't even include the burden of selling a house, moving, and settling into a new home/city.
One month?! I'm not sure how I've been in my new position a month, but that's what my iCal says… I wish I could tell you that I executed the following plan perfectly, but I didn't even come close. Has my transition been smooth? Absolutely! But even the best made plans can get thrown off (like when the buyers of your old house drop out and the new buyers want a new roof…really?!). But having a plan gets you back on target after you have addressed the distraction. With no plan, you can easily lose track of what needs to be accomplished and make a terrible first impression with parents, staff, and students.
Entering a Youth Ministry
Start with Relationships
As you step into a new church, you will want to identify and introduce yourself to:
Staff
Youth Ministry Leaders
Influential Parents
Elders/Deacons
Student Leaders
Local Youth Pastors
It will take you a bit to get through this list, but it's reasonable to accomplish this within a month. While I might not know the name of their dog, I have at least introduced myself and memorized their face (and if I'm lucky…name). Staff will be the easiest to meet. Go office to office and get to know the folks on your team. Set up a leader meeting where you can get all the youth ministry volunteers in one space. Have them introduce themselves and how long they have been serving with the student ministry. Many of the volunteers will be parents, but also connect with key parents who have been at the church a long time (you want them for you, not against you!). Ask the pastor or key leader about attending an elder/deacon meeting so you can shake hands and meet the folks who pour their time and energy into the church. Begin meeting with upper classmen or a student leadership team who can help you meet/greet/lead games/accomplish tasks. Finally, reach out to local youth pastors. Ask them about successes and struggles they've had reaching the community.
Figure out the System
As you step into this new role, your job is not to start barking orders and making changes. In fact, it's quite the opposite! Your role within the first two weeks should be to observe and assesses. You're looking to fully grasp the programming.
Seek to understand why and how things are done. Be curious about everything. You're new; you're allowed to ask questions. Don't pass judgment without first questioning intent and motives. Discover what the church and youth ministry consider foundational (non-negotiable), tradition (always been done), common (generally expected), and peripheral (it exists). Assess as you go, take notes, and make plans. But don't change anything…yet. The time will come to make adjustments to the programming, but it's not in the first month. Remember, start with relationships. The first month is about building trust with parents, students, volunteers, and staff. Don't make changes before you have enough relational capital to do so.
How was the start to your youth ministry gig? Did you make changes to fast? Did you burn any bridges before they were built? Comment below!
COMING SOON: In Part 4 of Transition in Youth Ministry we will cover a Communication Strategy that will help you navigate your first month on the job…stay tuned!
Did you miss Parts 1 & 2?
Need a full transition strategy? Here ya go…
Part 1: Question Everything
Part 2: Leaving Faithfully
Part 4: Communication Strategy